Environmental Audit Committee
Show me:
Environmental Risks Of Fracking
HC 856, Eighth Report of Session 2015-15 - Report, Together with Formal Minutes Relating to the Report
Author:

House of Commons - Environmental Audit Committee

Publisher:

TSO (The Stationery Office)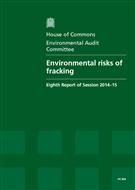 Add to Basket
Extensive production of unconventional gas through fracking is inconsistent with the UK's obligations under the Climate Change Act and its carbon budgets regime; 'Environmental Risks Of Fracking (HC 856)' concludes that Shale gas is not low carbon, and the objective of Government policy should be to reduce the carbon intensity of energy whatever its source, if the UK is to contribute to the international efforts to keep global temperature rise below two degrees.
Exploratory drilling for shale gas has begun in the UK and the Government is encouraging fracking. It has introduced tax concessions and is seeking - through its Infrastructure Bill (see below) - to ease the process for fracking operations, including through proposals for an automatic right of access to 'deep-level land', for exploratory drilling and extraction.
Shale gas cannot be regarded as a 'transitional' or 'bridging' fuel. Any large scale extraction of shale gas in the UK is likely to be at least 10-15 years away and therefore cannot drive dirtier coal from the energy system, since by that time it is likely that unabated coal-fired power generation will have been phased out to meet EU emissions directives. It is also unlikely to be commercially viable unless developed at a significant scale, to be able to compete against a growing renewable energy sector, but large-scale fracking will not be able to be accommodated within still tightening carbon budgets.
The Committee concludes that there is little evidence to suggest that fracking could be undertaken at the scale needed to be commercially viable in the UK, or that it will bring gas prices down significantly.
Find similar publications here: