Environment, Food & Rural Affairs Committee
Show me:
Winter Floods 2013-14
HC 240, First Report of Session 2014-15 - Report, Together with Formal Minutes Relating to the Report
Author:

House of Commons - Environment, Food and Rural Affairs Committee

Publisher:

TSO (The Stationery Office)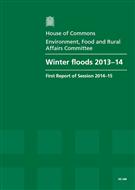 Add to Basket
The report 'Winter Floods 2013-14 (HC 240)' warns that the Government must not neglect maintenance of flood defences and watercourses - if homes, businesses and farmland are to gain better protection against future flooding risk.
The Committee calls for fully funded plans to address the current backlog of dredging and watercourse maintenance as well as to maintain the growing numbers of man-made flood defences. The devolution of maintenance activity to internal drainage boards and to local landowners, wherever possible, is supported, alongside a widespread education campaign to address the confusion over maintenance responsibilities.
It is essential that cuts to the Environment Agency funding do not lead to unintended consequences, where funding is redirected to one operational area to the detriment of another. The report also calls for a reassurance from the Department for the Environment, Food and Rural Affairs (DEFRA) that frontline flood jobs at the Environment Agency will not be cut.
The current split between capital and revenue budgets are still a major barrier to targeting funding according to local priorities, and the Government should move to a total expenditure approach for flood funding, to allow more flexibility for spending in the most effective way.
Find similar publications here: