Environment, Food & Rural Affairs Committee
Show me:
Rural Payments Agency: interim report fifth report of session 2005-2006 report, together with formal minutes
House of Commons papers 840 2005-06
Corporate Author:

Great Britain Parliament House of Commons Environment, Food and Rural Affairs Committee

Author:

Michael Jack (chairman)

Publisher:

TSO (The Stationery Office)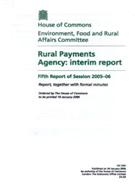 Add to Basket
The Rural Payments Agency (RPA) is an executive agency of DEFRA and is responsible for administering the Single Farm Payment (SFP) scheme. This scheme was introduced following Common Agricultural Policy reforms agreed in 2003 to replace several existing CAP subsidy payments. In the light of growing concerns about the RPA's ability to meet its March 2006 deadline for making the new payment to farmers in England, the Committee's interim report sets out its immediate concerns about the performance of the RPA and DEFRA in their preparations for the implementation of the new SFP. The report criticises the lack of adequate planning in DEFRA's decision to adopt the 'dynamic hybrid' approach to implementation in England at the earliest opportunity, which gave insufficient recognition to the administrative complexities involved. Delays in payments to English farmers has disadvantaged them in comparison to farmers in the rest of the UK who have already received a partial payment. This could threaten to put some farms out of business, and the Government should make clear what steps it will take to avoid this. The Committee also raises concerns about IT system problems encountered, which it argues could have been avoided with better planning and monitoring.
Find similar publications here: