Culture, Media & Sport Committee
Show me:
Football Governance
HC 792-I, Seventh Report of Session 2010-12 - Volume I: Report, Together with Formal Minutes
Author:

House of Commons - Culture, Media and Sport Committee

Publisher:

TSO (The Stationery Office)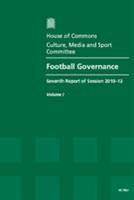 Add to Basket
This report, 'Football Governance (HC 792-I)', from the Commons Culture, Media and Sport Committee says big changes need to be made to the way football is run in England to address financial instability and levels of debt in the game, and to secure its future.
The Committee says that crucially, reform must be undertaken without impinging on English football's many strengths. The Football Association (FA), as the national governing body of English football, is the most appropriate agency to take the lead in addressing the weaknesses of English football, but it needs urgent reform itself to carry out its responsibilities effectively and meet the future challenges of the game.
The Committee sets out 34 conclusions and recommendations, including:
imposing a rigorous and consistent formal licensing model throughout professional English football to promote sustainable forward-looking business plans;

a strong fit and proper persons test consistently applied, with a presumption against selling the ground unless it is in the club's interest;

amending the Financial Services and Markets Act 2000 to recognise the special nature of supporters' trusts and help them overcome the significant legal and bureaucratic hurdles they face when raising funding; and

that the FA should review expenditure at the grass roots, with a particular emphasis on coaching education
For oral and written evidence, see Volume II (listed below).
Find similar publications here: