Culture, Media & Sport Committee
Show me:
Work of Arts Council England
HC 279, Third Report of Session 2014-15 - Report, Together with Formal Minutes Relating to the Report
Author:

House of Commons - Culture, Media and Sport Committee

Publisher:

TSO (The Stationery Office)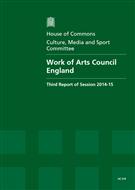 Add to Basket
'Work of Arts Council England (HC 279)' examines the important work undertaken by Arts Council England, playing a vital role in safeguarding, consolidating and building the nation's cultural infrastructure and enhancing its quality of life as well as supporting a range of activities across the arts, museums and libraries.
Support for the arts comes principally through the distribution of public money, either grant in aid from the tax payer or proceeds from National Lottery ticket sales. Since 2010 the Arts Council has seen its grant in aid fall by a third, a situation that has prompted cuts in staff numbers and difficult decisions about where to target support.
While it is essential to acknowledge the prevailing economic climate there remains a clear funding imbalance in favour of London, at the expense of tax payers and lottery players in other parts of the country. The Arts Council is well-placed to restore some balance.
The report recommends that the Arts Council to re-double its already significant efforts at brokering cultural partnerships involving businesses, local authorities, local enterprise partnerships, universities and international organisations, particularly within the EU - which might provide additional funding sources.
Find similar publications here: