Culture, Media & Sport Committee
Show me:
Pre-Legislative Scrutiny Of Draft Gambling (Licensing And Advertising) Bill
HC 905, Fifth Report of Session 2012-13 - Volume I: Report, Together with Formal Minutes, Oral and Written Evidence
Author:

House of Commons - Culture, Media and Sport Committee

Publisher:

TSO (The Stationery Office)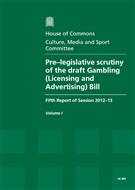 Add to Basket
Around 80% of online gambling in the UK is conducted with operators who are not licensed here, 'Pre-Legislative Scrutiny Of Draft Gambling (Licensing and Advertising) Bill (HC 905)' examines the progress of the draft Gambling (Licensing and Advertising) Bill, which was introduced by the Government in December 2012, and would require overseas gambling operators to obtain a Gambling Commission licence.
The overseas-based remote gambling operators are generally opposed the Bill on the grounds that it was unnecessary for consumer protection, may drive consumers to cheaper unlicensed operators, and was principally intended to bring overseas operators within the UK's tax regime.
Much of the UK-based gambling industry, such as sports bodies and organisations working to combat problem gambling, supported the principle of the Bill. Almost all those who gave oral or written evidence to the Committee raised the issue that the enforcement regime would have to be rigorous, in order to provide any of the benefits to consumers.
The Committee supports the principle that gambling should be regulated on a 'point of consumption' basis, and notes the concerns raised with regard to taxation of the online industry. The Government stated that the ability to bring all operators serving UK consumers within the tax net is a consequence, but not the prime motivation of the draft legislation.
The report also notes that in setting a tax rate for remote gambling, the Treasury should bear in mind that too high a rate would be liable to drive customers and companies into the unregulated, black market.
Find similar publications here: