Culture, Media & Sport Committee
Show me:
Women And Sport
HC 523, First Report of Session 2014-15 - Report, Together with Formal Minutes Relating to the Report
Author:

House of Commons - Culture, Media and Sport Committee

Publisher:

TSO (The Stationery Office)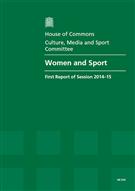 Add to Basket
The report 'Women and Sport (HC 513)' examines the long-term health and social care implications of the low participation rates in sport by women and girls, and urges a more imaginative approach to engaging women in sport by schools, sports governing bodies and relevant government departments.
The Committee is especially concerned that many girls are put off sport by their experience of school games lessons, and it focuses a number of its recommendations on making school sport more appealing to girls.
Almost without exception, whether the comparison is made by ethnic group, income status or age, women and girls are less likely to participate in sport than men. Girls give up sport at an earlier age than boys, and are less likely than men to sustain participation into adulthood, as other responsibilities reduce leisure time. Even for those who do want to continue to participate, there are problems of accessibility, availability of suitable facilities and cost.
Women's sport has for too long been seen as an add-on to men's sport, of less interest to both male and female spectators. At elite level, there has until recently been a reluctance in the media to cover women's sport, which arguably has dampened potential interest among spectators and possible commercial sponsors, which in turn has led to low interest amongst the media.
More work is needed to entrench the virtuous circle of good media coverage, higher spectator or viewer engagement, greater sponsorship and a more attractive product with greater media interest.
Find similar publications here: