Culture, Media & Sport Committee
Show me:
Online Safety
HC 729, Sixth Report of Session 2013-14 - Volume I: Report, Together with Formal Minutes, Oral and Written Evidence
Author:

House of Commons - Culture, Media and Sport Committee

Publisher:

TSO (The Stationery Office)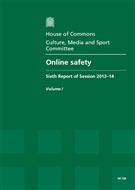 Add to Basket
The report 'Online Safety (HC 729)' focuses on three disparate aspects of online content and behaviour, all of which are of widespread concern: illegal content, especially images of child abuse; harmful adult content being made freely available to children; and bullying and harassment on social media.
The Committee praises the work of the Child Exploitation and Online Protection (CEOP) Command, now part of the new National Crime Agency, and the Internet Watch Foundation, but more resources are called for to be devoted to their valuable work. All three elements of CEOP's mission (education, social care and criminal justice) need to be actively pursued and publicised.
On illegal content:
Tracing paedophiles who share images on peer-to-peer networks and the so-called hidden internet continues to challenge both the police and the internet service providers.
On harmful adult content:
Legal adult pornography is widely consumed, but children could be protected from viewing the material if the sites restricted access; whilst filters such as age verification may not be failsafe, they continue to improve and are an important way of protecting children from harmful content.
On bullying and harassment on social media:
Today, one in five 12-16 year-olds think being bullied online is part of life. Social media providers should offer a range of prominently displayed options for, and routes to reporting harmful content and communications.
Ofcom has an important role in monitoring internet content and advising the public on online safety, but more needs to be done to signpost the advice and educational resources available to both parents and teachers.
Find similar publications here: