Culture, Media & Sport Committee
Show me:
Supporting The Creative Economy
HC 674, Third Report of Session 2013-14 - Volume I: Report, Together with Formal Minutes, Oral and Written Evidence
Author:

House of Commons - Culture, Media and Sport Committee

Publisher:

TSO (The Stationery Office)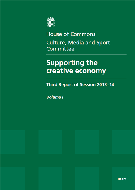 Add to Basket
The report 'Supporting The Creative Economy (HC 674)' warns that the extraordinary success of the UK's creative industries may be jeopardised by any dilution of intellectual property rights and the failure to tackle online piracy.
The Committee strongly condemns the failure of Google in particular to tackle access of copyright infringing websites through its search engine. Such illegal piracy, combined with proposals arising from the Hargreaves review (see below) to introduce copyright exceptions, and a failure to strengthen copyright enforcement as envisaged by the Digital Economy Act 2010, threaten the livelihoods of the individuals and industries that contribute over £36 billion annually to the UK economy.
Recommendations of the Committee include:
a central champion of Intellectual Property in Government to promote and protect the interests of UK intellectual property

the maximum penalty for serious online Intellectual Property (IP) theft to be increased to 10 years imprisonment, in line with the punishment for such offences in the physical world;

more evidence and scrutiny before any exceptions to copyright such as those suggested by Hargreaves are applied;

redoubled efforts to ensure that the video games tax credit is approved by the European Commission and introduced as soon as possible;

reforms to the income tax and tax reliefs systems to recognise adequately the freelance nature of much creative work; and

greater recognition of the importance of arts subjects in the curriculum.
Find similar publications here: