Constitutional Affairs Committee
Show me:
Reform of the coroners' system and death certification: eighth report of session 2005-06: Vol. 1 Report, together with formal minutes
House of Commons papers 902-I 2005-06
Corporate Author:

Great Britain Parliament House of Commons Constitutional Affairs Committee

Author:

Alan J. Beith (chairman)

Publisher:

TSO (The Stationery Office)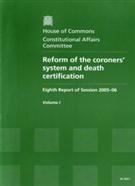 Add to Basket
The Committee's report examines the system of death certification and investigation in England and Wales, following two reports (The report of the Fundamental Review of death certification and coroner services (The Luce Review) (Cm. 5831, June 2003; ISBN 0101583125); and the third report of the Shipman Inquiry (Cm. 5854, July 2003; ISBN 010158542X)) and the Government's draft Bill on reform of the Coroner system (Cm 6849, ISBN 0101684924) which was published in June 2006. The Committee finds that reform of the system is long overdue, having been neglected for decades, and constrained by limited legal, financial and human resources. The Government's draft Bill will do much to improve the coroners system, including new investigatory powers, national leadership and new rights for bereaved persons. However, the Bill lacks provision to remedy the critical defects in the death investigation system, with no effective supervision of, or support for, certifying doctors, or clear reporting mechanism. It also fails to nationalise the coroners system, leaving local authorities as the main funding source, and is therefore unlikely to address current service inequalities. Overall, therefore, the Committee finds that the draft Bill falls well short of what is required in order to deliver substantial reform, and the proposals are threatened by the paucity of resources likely to be given to it.