Constitutional Affairs Committee
Show me:
Protection of Private Data
HC 154, First Report of Session 2007-08 – Report, Together with Formal Minutes, Oral and Written Evidence
Author:

House of Commons – Justice Committee

Publisher:

TSO (The Stationery Office)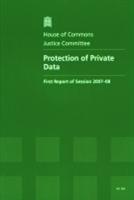 Add to Basket
This inquiry was prompted by the loss by HM Revenue and Customs, in November 2007, of two CDs containing personal and banking information belonging to all child benefit claimants. The Committee took evidence from Richard Thomas, the Information Commissioner, and David Smith, his deputy, about this case and the issue of protection of personal data held by Government and other agencies.
The Committee concludes that there is evidence of a widespread problem within Government relating to establishing systems for data protection and operating them adequately. The Information Commissioner needs better funding and more powers to enable review of systems for data protection.
There is a difficult balance to be struck between the advantages of wider exchange of personal data between Government departments and the protection of personal data. The Committee will return to this topic at a later date after various inquiries put in train by the Government have reported.
Find similar publications here: