Constitutional Affairs Committee
Show me:
The Government's response to the House of Commons Home Affairs Select Committee report: young black people and the criminal justice system
Cm. 7214
Corporate Author:

Great Britain Ministry of Justice

Publisher:

TSO (The Stationery Office)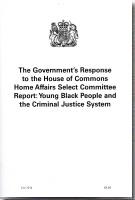 Add to Basket
Young black people are over represented at all stages of the criminal justice system (CJS), forming 2.7 per cent of the population aged 10-17 but comprising 8.5 per cent of that age group arrested in England and Wales. They are more likely to be stopped and searched, less likely to be given unconditional bail and more likely to be remanded in custody. This publication sets out the Government's reply to the Committee's inquiry (HCP 181-I, session 2006-07; ISBN 9780215034465) into the relationship between young black people and the CJS, focusing on the reasons for their over-representation in the system; as well as underlying factors such as entrenched poverty; educational underachievement; school exclusions; family breakdown; lack of role models; and discrimination in the criminal justice system.
Find similar publications here: