Administration Committee
Show me:
Information and communication technology services for members: second report of session 2006-07 report, together with formal minutes and written evidence
House of Commons papers 498 2006-07
Corporate Author:

Great Britain Parliament House of Commons Administration Committee

Author:

Frank Doran (chairman)

Publisher:

TSO (The Stationery Office)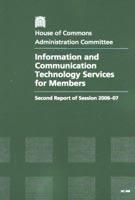 Add to Basket
The Parliamentary Information and Communication Technology (PICT) was established in January 2006, bringing together ICT staff and other resources from across both Houses of Parliament into a unified organisation. The Committee's report focuses on those services provided for MPs and their staff, with the aim of ensuring that processes are put in place to enable Members' services to be delivered efficiently and to an agreed standard. Issues considered include: how ICT services are currently provided; best practice from comparable systems in universities and private sector franchises; the evolving use by MPs of ICT services; matters of concern to individual MPs including balancing issues of stability and flexibility, constituency provision, customer service and provision of equipment; and the provision of new ICT developments such as audio-conferencing, wireless and mobile computing.
Find similar publications here: