Know Your Traffic Signs
Book
Author:

Department for Transport (DfT)

Publisher:

HMSO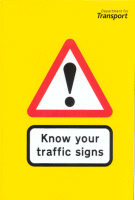 This comprehensive booklet, reprinted February 2006, illustrates and explains the vast majority of traffic signs that the road user is likely to encounter. A valuable reference for those about to take either the theory or practical tests or those who have been driving for years.
Knowing your traffic signs can be a matter of life and death - yours or somebody else's. It takes a wide variety of signs, signals and road markings to convey quickly and accurately the wide range of information that drivers need. Although The Highway Code shows most of the commonly used road signs which are prescribed by the Traffic Signs Regulations, it does not give a comprehensive explanation of our signing system. The aim of this booklet, therefore, is to illustrate the vast majority of traffic signs the road user is ever likely to come across.
Please note: This publication has been superseded by 'Know Your Traffic Signs – 2007 Edition' (ISBN 0115528555, available below), a new fully updated guide to traffic signs.