The Official DVSA Theory Test for Motorcyclists download
Author:

Driver & Vehicle Standards Agency (DVSA)

Publisher:

TSO (The Stationery Office)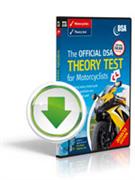 Add to Basket
Prepare to pass your motorcycle theory test first time with this official download. Instant access to the closest experience you can get to the real multiple choice part of the theory test.
Written by the people who set the test

Download directly to your Windows PC or laptop to begin revising straight away, all from the comfort of your own home

Every official theory test revision question and answer, including mock tests

Full DVSA explanations of the answers

Preparation for case studies on every topic

References to the official test source material throughout to aid understanding

Sit customised tests so you can practice specific sections more thoroughly

Analyse your test performance to identify topic areas that need more revision

Includes a full digital version of The Official Highway Code.

Explains what to expect at the test centre on the day

Optional free full voiceover available to help those with reading difficulties and/or dyslexia*

All this for just £12.99.
Essential for all learner motorcyclists. Includes The Official Highway Code, which provides the most up-to-date advice on road safety and rules of the road. With every theory test question including references to The Official Highway Code, The Official DVSA Guide to Riding - the essential skills and Know Your Traffic Signs so you can learn more about safe riding theory, this Interactive Download prepares you fully for your theory test, and ensures you're on the road to safe riding for life.
* Full details on how to download the voiceover are included on your order confirmation page.
Find out more...
Have a go! Try our Preview to see exactly what you can expect from the Interactive Download (opens file download - size 23Mb)
From the Driving Standards Agency - the people who set the driving tests.
Please see our software downloads help page for details on system requirements. The Official DVSA Theory Test for Motorcyclists download is not supported by Apple Mac and Apple Mac PC Emulators.