The Highway Code 80th Anniversary Pack
Author:

Department for Transport (DfT)/Driving Standards Agency (DSA)

Publisher:

TSO (The Stationery Office)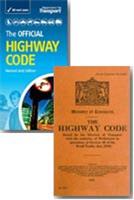 Add to Basket
To celebrate the 80th anniversary of The Highway Code, we are offering this limited edition Highway Code pack containing today's Highway Code and replica of the original edition from 1931.
Update your road knowledge with the current edition of The Official Highway Code, essential reading for all road users in England, Scotland and Wales. Plus read the advice motorists were given in 1931 with this replica of the very first edition.
It remains vital that all road users - drivers, motorcyclist, horse riders and pedestrians - are familiar with The Official Highway Code.
The current edition:
contains the very latest rules of the road, including legal requirements which must be adhered to in order to avoid fines, penalty points, disqualification and even prison

includes references to legislation that creates the offence

offers advice on road safety and best practice

is the source for many theory test questions - an essential resource for test preparation

includes advice to help newly qualified drivers through the first twelve months after passing their test when they are most vulnerable

details legislation on subjects such as vehicle emissions and smoking in vehicles, plus advice on road initiatives such as high occupancy vehicle lanes and Active Traffic Management Schemes

emphasises courtesy, attitude and awareness.
Despite the number of motor vehicles on Great Britain's roads increasing from just 2.3 million in 1931 to over 34 million today, the overriding message of The Highway Code has remained the same. The very first edition urged all road users to be careful and considerate towards others, putting safety first, and this advice is still relevant today.
However, other aspects have changed considerably. For example, in the 1931 edition mirrors are not even mentioned and drivers are advised to sound their horn when overtaking. Nowadays, advice on how to cross the road fills a whole chapter, but originally it only merited a paragraph. Find out more about how things have changed with the special replica first edition, celebrating 80 years of this life-saving publication. A must-have for all driving enthusiasts this slice of motoring history makes for interesting reading!
*This pack is not available to order by trade customers and is not for resale.
| | | | |
| --- | --- | --- | --- |
| Extent | 152 / 24 pages | ISBN | 9780115531811 |
| Size | 112 x 210mm / 95 x 155mm | Price | £7.49 |
| Format | Paperback | Published | 20 Apr 2011 |
| Availability | Out of Print: but may be available to order | Delivery | Delivery options and charges |

Find similar publications here: