The Official Highway Code
Paperback
Author:

Department for Transport (DfT), Driver & Vehicle Standards Agency (DVSA)

Publisher:

TSO (The Stationery Office)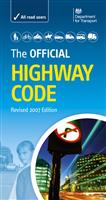 All the latest rules of the road and traffic signs for England, Scotland and Wales. Not just for learners: make sure YOUR knowledge is up-to-date.
5 reasons to buy it:
Keeping you safe - make sure you know the rules of the road and traffic signs to help keep yourself and others safe

It's the law - many of the rules MUST be adhered to in order to avoid fines, penalty points, disqualification and even prison

For learners - the source for many theory test questions; an essential resource for test preparation

For everyone - whether you drive a car, lorry, bus or tractor, ride a motorbike, bicycle or horse, or are a pedestrian, this advice is for ALL road users

Stay up-to-date - guidance changes over time, it's your responsibility to refresh your knowledge NOW
More information:
The Official Highway Code - for life, not just for learners.
Just passed? - includes advice to help newly qualified drivers through the first twelve months after passing their test when they are most vulnerable

Latest legislation - covers subjects such as vehicle emissions, smoking in vehicles, high occupancy lanes and Active Traffic Management Schemes
Industry reviews:
"No serious driver should be without a copy (of The Official Highway Code) in their glovebox." (Driving Magazine, February 2008)
Related resources:
Watch 'The Highway Code: for life, not just for learners' video on YouTube! (opens new window)
Also available:
Find similar publications here: