Education
Independent Review of Key Stage 2 Testing, Assessment and Accountability
Final Report
Author:

Lord Bew

Publisher:

TSO (The Stationery Office)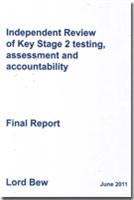 Add to Basket
'Independent Review of Key Stage 2 Testing, Assessment and Accountability' is the final report of the review led by Lord Bew into Key Stage 2 testing that finds there must be external school-level accountability in the system but that more trust should be placed in teachers, with a greater weight given to their assessment of pupils.
A wider range of data - including new progress and attainment measures, and rolling averages - should be taken into account to give a less arbitrary and fairer picture of a school's performance.
Recommendations include:
The current writing test should be replaced by teacher assessment of writing composition.

Maths should continue to be externally tested.

Reading tests should continue but should be refined over time.

Science should continue to be teacher assessed with a sample test to monitor national standards.

Speaking and listening should continue to be teacher assessed.

Three-year rolling averages should be introduced to give a rounded picture of a school's performance.

There should be a greater emphasis on the progress of pupils.

New progress and attainment measures should be introduced for pupils who have completed all of Years 5 and 6 in a school.

Teacher assessment judgements should continue in English, maths and science, and should be submitted before test results are announced.

There should be more detailed reporting to secondary schools so Year 7 teachers know right from the outset a pupil's attainment and the areas where extra work is needed.

Pupils who are ill on the day of a test should have a week to sit it, rather than two days.

Find similar publications here: