Civil Aviation Authority (CAA)
Show me:
Radiotelephony Manual: Amendment 5 to CAP 413 - Twenty-first Edition
Author:

Civil Aviation Authority (CAA)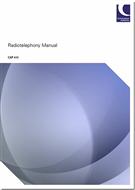 Add to Basket
The UK Radiotelephony Manual (CAP 413) aims to provide pilots, Air Traffic Services personnel and aerodrome drivers with a compendium of clear, concise, standard phraseology and associated guidance for radiotelephony communication in United Kingdom airspace.
The UK RTF Manual is based on ICAO Annex 10 Volume 2 (Communications Procedures) to the Convention on International Civil Aviation and ICAO PANS-ATM (Procedures for Air Navigation Services - Air Traffic Management) Doc. 4444. It is a useful reference book for the Flight Radiotelephony Operator's Licence examination.

If you're interested in this, you might also be interested in...
Find similar publications here:

Show all Subjects & Categories