Civil Aviation Authority (CAA)
Show me:
CAP 413 Radiotelephony Manual (consolidated edition May 2016 )
Author:

Civil Aviation Authority (CAA)

Publisher:

TSO (The Stationery Office)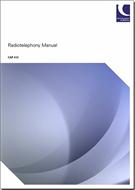 Add to Basket
The UK Radiotelephony Manual (CAP 413) aims to provide pilots, Air Traffic Services personnel and aerodrome drivers with a compendium of clear, concise, standard phraseology and associated guidance for radiotelephony communication in United Kingdom airspace.
All users of RTF in the United Kingdom are expected to comply with the phraseology described in this manual. However, the phraseology examples contained herein are not intended to be exhaustive, and when circumstances differ, pilots, ATS personnel and other ground personnel will be expected to use plain language, which should be as clear and concise as possible.
This title will consolidate CAP 413 Radiotelephony Manual amendments and supersedes CAP 413 Radiotelephony Manual November 2015 (ISBN 9780117929036).
If you're interested in this you might also be interested in...
Find similar publications here:

Show all Subjects & Categories