Departmental Reports
Show me:
Autumn Statement
Cm. 9362
Author:

HM Treasury

Publisher:

TSO (The Stationery Office)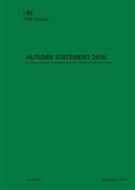 Add to Basket
The Office for Budget Responsibility (OBR) judges that there will be a period of economic uncertainty as the UK negotiates its departure from the EU. The UK GDP grew 2.2% in 2015 and growth has remained solid in the first three quarters of 2016. Raising productivity is the central long-term economic challenge.
The 'Autumn Statement (Cm. 9362)' announces a new National Productivity Investment Fund (NPIF) which will target 4 areas:
Housing

Transport

Digital Communications

Research and Development
It will provide £23 billion of spending between 2017-18 and 2021-22. It includes the biggest affordable housing programme since the 1970s, resurfacing 80% of the strategic road network, the largest investment in the railways since Victorian times, and prioritising science and innovation spending.
NPIF will take the total spend to £170 billion over the next 5 years and Public Sector Gross Investment is forecast to be at least 4% of GDP each year of this Parliament.
The Autumn Statement 2016 sets out some of the following, including:
a new Housing Infrastructure Fund of £2.3 billion by 2020-21;

an additional £1.1 billion by 2020-21 in new funding to relieve congestion and upgrades on local roads and public transport networks;

£390 million to support ultra-low emission vehicles;

£1 billion by 2020-21 targeted at supporting the market to roll-out full-fibre connections and future 5G;

an additional £4.7 billion will be provided for Research and Development funding;

£1.8 billion to Local Enterprise Partnerships (LEPs) across England;

income tax personal allowance will rise to £12,500 and the higher rate threshold to £50,000 by the end of Parliament; and

fuel duty will remain frozen for the seventh successive year.
The Government will publish draft legislation for
the soft drinks industry;

National Savings and Investment - to offer a new market leading 3-year savings bond; and

tax free child care - to be introduced gradually from early 2017.