Traffic Signs
Show me:
Traffic Signs Manual Chapter 5
Road Markings
Author:

Department for Transport, the Scottish Executive, the National Assembly for Wales and the Department for Regional Development (Northern Ireland)

Publisher:

TSO (The Stationery Office)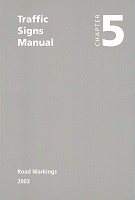 Add to Basket
The new edition of Chapter 5 in particular is a "good news" story. It provides detailed guidance on the intended use of new markings prescribed for the first time in the new Traffic Signs Regulations and General Directions (TSRGD) which came into force in January 2003. It also incorporates current best practice reflecting experience and changes since it was last revised.
The Traffic Signs Manual provides detailed guidance to local authorities, to consultants and to the Highways Agency and their agents on the correct use of traffic signs and markings. The aim is to ensure that the correct signs are used for any given circumstances, in the right position and at the appropriate size, and to achieve a consistent approach across the country.
Key features:
More user friendly than its predecessor

More explanations of the reasons underlying the advice

Comprehensive index
Find similar publications here: