Accounts
Show me:
Office For Budget Responsibility Economic & Fiscal Outlook
Cm. 9346
Author:

Office for Budget Responsibility (OBR)

Publisher:

TSO (The Stationery Office)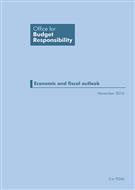 Add to Basket
In the paper 'Office For Budget Responsibility Economic & Fiscal Outlook (Cm. 9346)' the OBR sets out forecasts for 2021-22 and assesses whether the Government is on course to fulfil its' medium-term fiscal objectives, and the proposed targets set out in the Autumn Statement.
With no fully specified Government policy in relation to the UK's exit from the EU, a number of broad-brush conditioning assumptions in respect of the economic and fiscal outlook are set out.
The Government is no longer on course to balance the budget during the current Parliament and has formally dropped this ambition in a significant loosening of its fiscal targets.

Public sector net borrowing is now expected to fall more slowly than the OBR forecast in March 2016, primarily reflecting weak tax receipts so far this year and a more subdued outlook for economic growth as the UK negotiates a new relationship with the European Union.
The Government has opted neither for a large near-term fiscal stimulus nor more austerity over the medium term. The Chancellor has proposed a much looser 'fiscal mandate' that gives him scope for almost 2.5% of GDP (£56 billion) more structural borrowing in 2020-21 than his predecessor was aiming for in March.
Forecast revisions have absorbed 0.9% of GDP (£20 billion) of this extra room for manoeuvre and the Chancellor has given away 0.4% of GDP (£9.5 billion), mostly in infrastructure spending. This leaves 1.2% of GDP (£26.5 billion) spare in the event that the structural outlook is worse than the OBR thinks, or the Chancellor wishes to announce giveaways.
If the Chancellor did borrow more, balancing the budget as early as possible in the next Parliament would be challenging, especially given age-related spending pressures.
The OBR's central forecasts suggests the economy will grow more slowly than expected in March 2016, with GDP growth in 2017 revised down from 2.2% to 1.4% and cumulative growth over the whole forecast revised down by 1.4 percentage points; a weaker outlook for investment and therefore productivity growth is the main cause.
Inflation is forecast to peak at 2.6% and unemployment to rise modestly to 5.5% during 2018. Subdued earnings growth and higher inflation mean that real income growth stalls in 2017.
The budget deficit has been revised up by £12.7 billion this year.