Lords
Show me:
Modern Slavery Bill
HLB 51, 2014-12015
Author:

House of Lords

Publisher:

TSO (The Stationery Office)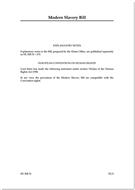 Add to Basket
The 'Modern Slavery Bill (HLB 51)' makes provision about slavery, servitude and forced or compulsory labour; to make provision about human trafficking; to make provision for an Independent Anti-slavery Commissioner; and for connected purposes.
The Bill is divided into seven parts:
Part 1 consolidates the current offences of slavery and human trafficking whilst increasing the maximum penalty for such offences.
Part 2 provides for two new civil preventative orders, the Slavery and Trafficking Prevention Order and the Slavery and Trafficking Risk Order.
Part 3 provides for new maritime enforcement powers in relation to ships.
Part 4 establishes the office of Independent Anti-slavery Commissioner and sets out the functions of the Commissioner.
Part 5 introduces a number of measures focussed on supporting and protecting victims, including statutory defence for slavery or trafficking victims and special measures for witnesses in criminal proceedings.
Part 6 requires certain businesses to disclose what activity they are undertaking to eliminate slavery and trafficking from their supply chain and their own business.
Part 7 relates to general matters such as consequential provision and commencement.
Find similar publications here: