Immigration
Show me:
The US-UK Extradition Treaty
HC 644, Twentieth Report of Session 2010-12 - Report, Together with Formal Minutes, Oral and Written Evidence
Author:

House of Commons - Home Affairs Committee

Publisher:

TSO (The Stationery Office)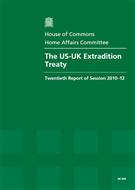 Add to Basket
The report 'The US-UK Extradition Treaty (HC 644)' urges the Government to act immediately to deal with growing public unease about the fairness of the US-UK Extradition Treaty as highlighted by the cases of Gary McKinnon, Richard O'Dwyer and Christopher Tappin.
The Committee believes the Treaty is unbalanced, making it easier to extradite a British citizen to the USA than vice versa. It has now been two and half years since the Prime Minister said the Extradition Act should be reviewed and five months since Sir Scott Baker produced his report 'A Review of the United Kingdom's Extradition Arrangements'.
Evidence to the Committee has shown that the current arrangements do not protect the rights of British citizens. The Government should seek to amend the Treaty to specify that the same test applies for extradition from the UK that applies to extradition from the USA.
A forum bar for extradition should be introduced, whereby a judge could decide that a person be tried in the UK in cases where both countries have jurisdiction; and Government should negotiate the introduction of an evidence test. This would be proportionate to the hardship faced by those who are extradited, whether they are subsequently convicted or not.
The Committee also recommend that the evidence to the Baker Review should be published immediately.

Find similar publications here:

Show all Subjects & Categories