MCHW
Show me:
Updates to the Manual of Contract Documents for Highway Works (MCDHW): Volume 2
Notes for Guidance on the Specification for Highway Works - Amendment December 2014
Author:

The Highways Agency

Publisher:

TSO (The Stationery Office)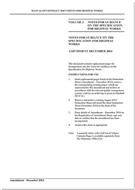 Add to Basket
This document contains replacement pages for incorporation into the Notes for Guidance on the Specification for Highway Works.
The update contains:
MCDHW Volume 2 Instructions

MCDHW Volume 2 Series NG 000 Introduction

MCDHW Volume 2 Series NG 100 Preliminaries

MCDHW Volume 2 Series NG 1700 Structural Concrete

MCDHW Volume 2 Annex 1
MCHW consists of several parts which include the administrative procedures for its use, the Specification for Highways Works and its corresponding method measurement. It incorporates the requirements of the European Commission which are mandatory for all Public Procurement Bodies.
Volume 2 gives advice and guidance in the implementation of the specifications given in Volume 1, as well as examples of tables and appendices necessary for the contract.
The MCDHW Series 1700 provides the Overseeing Organisations requirements for the specification and execution of structural concrete in new highway structures. It is applicable to concrete in structures that are designed to the Eurocodes and that are to be executed to the associated European concrete execution standard BS EN 13670. The accompanying Notes for Guidance Series NG1700 provides guidance to those compiling the contract specific parts of the specification for individual works and to those implementing the Series 1700 requirements for these works.
This revision of the two documents updates the Overseeing Organisations requirements and guidance to take account of the introduction of European concrete specification and execution standards, the introduction of the Construction Products Regulation, the outcome of research work, feedback on the provisions of the existing Series 1700 and NG1700, industry developments, and other technical improvements that have been identified since the documents were last updated.
Find similar publications here: