DMRB
Show me:
Design Manual for Roads and Bridges: Volume 7 Pavement Design and Maintenance
Section 2 Pavement Design and Construction, Part 4 Pavement Construction Methods
Publisher:

TSO (The Stationery Office)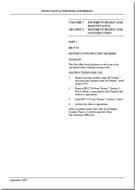 Add to Basket
Design Manual for Roads and Bridges (DMRB) Vol 7 Section 2 Part 4 is the Highways Agency publication no. HD 27/15.
HD 27/15 contains details of various construction methods and techniques which are particularly relevant to Volume 7. This Part includes details for the widening of existing pavements and covers the area of design, materials and construction. It shall be used for the construction, improvement and maintenance of trunk roads including motor-ways.
These techniques will be used more frequently as a high proportion of the trunk road network needs to be widened or improved to handle increased traffic capacity.
Rapid construction and repair of concrete pavements is also covered and draws on ex-perience gained from contracts both in the UK and in the United States.
The DMRB is an essential reference tool for agents, authorities, consultants and organi-sations who are engaged in the design, assessment, maintenance and management of road and bridge design.
This publication supersedes HD 27/04 (ISBN 9780115524028).
Find similar publications here: