Bus, Lorry & Specialist Vehicle Drivers
Show me:
The Official DVSA Theory Test for Drivers of Large Vehicles Pack 2015 edition
Author:

Driver and Vehicle Standards Agency (DVSA)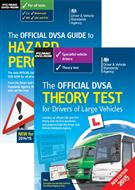 Add to Basket
Updated for 2015! Prepare to pass your lorry or bus theory test (both the multiple choice and hazard perception test) first time with the only official software pack for PC and Mac. It includes the 2015 edition of The Official DVSA Theory Test for Drivers of Large Vehicles DVD-ROM and the completely revised 2014/15 edition of The Official DVSA Guide to Hazard Perception DVD-ROM. SAVE £10.99 compared to buying the titles separately.
Develop your theory and hazard perception skills, explore a variety of environments and road conditions - plus create your own practise tests! This pack now includes more help than ever before and includes updated revision questions about the new HGV speed limits on single and dual carriageways.
Key benefits:
Makes passing your test simpler - follow the clear three-step process "study, practice, test yourself", so that you're completely prepared for your test

Learn from the experts - DVSA, the people who actually set the tests. The Hazard Perception DVD-ROM has over 100 high quality, interactive video clips designed to help you pass

Easy to understand - updated learning material in clear, bite-sized chunks to help you really understand the theory, whatever your learning style

Learn your way - loads of real-life images and clear diagrams, links to further online information and videos, and hints and tips to help you remember and apply what you learn

What is a hazard? - the study section teaches you everything you need to know about hazard perception (including looking for clues and scanning) so you're completely prepared for your test

Responding to hazards - packed with interactive exercises to help you learn your way; including sign matcher, multiple choice clips, multiple choice questions, and commentary clips

Test yourself - prepare for the day of your theory test - test yourself with clips designed to reflect the real test

Clearly track your progress - it's easy to see how much you've completed and how you're doing, so you know when you're ready to pass!
More information
Prepares you for the day of your test - mock tests just like the real thing. The revision questions and case studies cover the same topics as the actual test

Review and improve - the clip review feature shows you exactly where the hazards are so you can keep improving

All the extras you need - including a digital version of The Official Highway Code and voiceover option.
Please see our help pages for system requirements
*This pack is not available to order by trade customers and is not for resale.
Find similar publications here: