Bus, Lorry & Specialist Vehicle Drivers
Show me:
Driver CPC - The Official DVSA Guide for Professional Bus and Coach Drivers
Book
Author:

Driver & Vehicle Standards Agency (DVSA)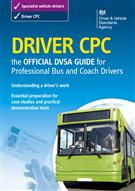 Add to Basket
Prepare for your Driver Certificate of Professional Competence (Driver CPC) with this official book for professional bus and coach drivers.
Four reasons to buy it:
1. Background - explains the process of gaining Driver CPC and includes information on periodic training
2. Case studies test - shows you how case studies will be presented and explains how to answer this part of the test, with two official examples
3. Practical demonstration test - describes what you'll have to do on the day
4. Full syllabus - explains what you'll need to know in order to pass the test
You may also be interested in The Official DVSA Guide to Driving Buses and Coaches, which provides all of the information you need to obtain - and keep - your Driver CPC qualification.
Written by the Driver and Vehicle Standards Agency, the people who set the tests.
Find similar publications here: