The Official DVSA Theory Test for Motorcyclists Interactive Download
Author:

DVSA (Driver & Vehicle Standards Agency)

Publisher:

TSO (The Stationery Office)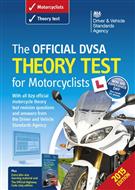 Get ready to pass your motorcycle theory test first time with the DVSA Theory Test Interactive Download - the ONLY official software revision tool for PC and Mac.
Key benefits
Makes passing your test simpler - follow the clear three-step process "study, practice, test yourself", so that you're completely prepared for your test

Learn from the experts - the official interactive download from the people who actually set the test

Easy to understand - new learning material in clear, bite-sized chunks to help you really understand the theory, whatever your learning style

Learn your way - loads of real-life images and clear diagrams, links to further online information and videos, and hints and tips to help you remember and apply what you learn

Clearly track your progress - it's easy to see how much you've completed, how you're doing and which topics need a bit more work to help you plan your revision

Prepares you for the day of your test - mock tests just like the real thing. The revision questions and case studies cover the same topics as the actual test

All the extras you need - including a digital version of The Official Highway Code and separate downloadable voiceover option
For details of of system requirements please see our Help page.