Car Drivers
Show me:
Highway Code Extra – The Official Rules and Signs
2 Books
Author:

Department for Transport (DfT) / Driver & Vehicle Standards Agency (DVSA)

Publisher:

TSO (The Stationery Office)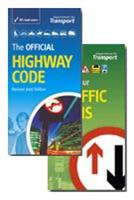 Add to Basket
Essential reading for all road users in England, Scotland and Wales, this set includes The Official Highway Code and Know Your Traffic Signs. Just £6.99 for both of these complementary titles - ensure your knowledge is up to date!
Every day around nine people are killed on our roads so it is vital that all road users - drivers, motorcyclists, horse riders and pedestrians - are familiar with both of these titles.
The Official Highway Code - for life, not just for learners
The very latest rules of the road, including legal requirements which must be adhered to in order to avoid fines, penalty points, disqualification and even prison - don't be without it!

Includes references to legislation that creates the offence

Advice on road safety and best practice

The source for many theory test questions - an essential resource for test preparation

Includes advice to help newly qualified drivers through the first twelve months after passing their test when they are most vulnerable

Legislation on subjects such as vehicle emissions and smoking in vehicles, plus advice on road initiatives such as high occupancy vehicle lanes and Active Traffic Management Schemes

Emphasis on courtesy, attitude and awareness

RRP £2.50
Know Your Traffic Signs
Illustrates and explains the vast majority of traffic signs that a road user is likely to encounter

Essential knowledge for all road users, not just new drivers and riders

Complementary to The Official Highway Code - this book gives a comprehensive explanation of our signing system

Provides source material for car and motorcycle theory tests (along with The Official Highway Code and The Official DVSA Guide to Driving - the essential skills and The Official DVSA Guide to Riding - the essential skills) - study this book to prepare fully for your test

RRP £4.99
Watch 'The Highway Code: for life, not just for learners' video on YouTube! (opens new window)
Please note: this title is not available to purchase online due to restrictions on trade resellers. Customers need to call Customer Services on +44 (0)870 600 5522 to place an order for this title.
Find similar publications here: