Driver & Vehicle Standards Agency
The Official Highway Code iPhone app
Author:
Driver & Vehicle Standards Agency (DVSA)
Publisher: TSO (The Stationery Office)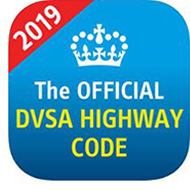 All the latest rules of the road and traffic signs at your fingertips. Not just for learners: make sure YOUR knowledge is up-to-date and help keep yourself and others safe on the road. If you have an iPhone, iPod Touch or iPad, you should have this app.
6 reasons to download it:
Read - includes fully searchable complete contents of The Official Highway Code arranged in handy chapters

Learn - ideal if you're preparing for your theory test; track your progress as you read and check what you've learnt with a quick test at the end of each section

Traffic signs - make sure you know your signs! Browse signs or use the interactive sign matcher to identify a sign you're not sure of

Quizzes - includes Highway Code and traffic signs quizzes; a fun way to make sure your road knowledge is up-to-date

Extras - loads of extra features including a voiceover option, stopping distances calculator and metric convertor

For everyone - whether you drive a car, lorry, bus or tractor, ride a motorbike, bicycle or horse, or are a pedestrian, this app is for ALL road users.
The Official Highway Code - for life, not just for learners.

Screenshots: