Driver & Vehicle Standards Agency
Show me:
The official DSA guide to learning to drive 9th ed., 2009
Sorry, this book is currently not available
Corporate Author:

Driver and Vehicle Standards Agency

Publisher:

TSO (The Stationery Office)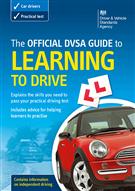 Add to Basket
The official guide which explains the standards required to pass today's practical driving test. Most people fail their driving test because they are not prepared. 'The Official DSA Guide to Learning to Drive' will help the learner and anyone helping someone learn to drive by explaining the standard required for each key skill examined within the driving test. This new edition will help the person sitting in the passenger seat understand what the learner needs to practise and the potential hazards they may encounter. The aim is to make sure that the learner is capable of driving safely and confidently, without prompting from an instructor, before they take their test.
Find similar publications here: