Select Committees
Show me:
Corporate tax settlements: twenty-fifth report of session 2015-16 report, together with formal minutes relating to the report
House of Commons papers 788 2015-16
Corporate Author:

Great Britain Parliament House of Commons Committee of Public Accounts

Author:

Meg Hillier (chair)

Publisher:

TSO (The Stationery Office)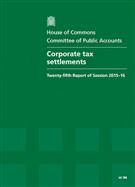 Add to Basket
A six year investigation by HM Revenue & Customs (HMRC) has resulted in Google paying a further £130 million to settle its corporation tax liabilities over the last 10 years. This vindicates the previous Committee's concerns in 2012 and 2013 that Google did not appear to be paying the full tax it owed in the UK. However, in the absence of full transparency over the details of this settlement and how it was reached we cannot judge whether it is fair to taxpayers. The sum paid by Google seems disproportionately small when compared with the size of Google's business in the UK, reinforcing our concerns that the rules governing where corporation tax is paid by multinational companies do not produce a fair outcome. Google's stated desire for greater tax simplicity and transparency is at odds with the complex operational structure it has created which appears to be directed at minimising its tax liabilities. Google admits that this structure will not change as a result of this settlement.
Find similar publications here: