National Audit Office
Improving the Efficiency of Central Government Office Property
HC 1826, Report by the Comptroller and Auditor General, Session 2010-12
Author:

National Audit Office (NAO)

Publisher:

TSO (The Stationery Office)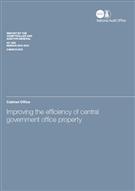 Add to Basket
In 'Improving the Efficiency of Central Government Office Property: Cabinet Office (HC 1826)' the NAO looks at the efficiency of central government office property since 2004. It finds that departments have made good progress in improving the efficiency of their office estate, but should stop managing their estates in isolation from one another in order to achieve best value for money.
Departments have reduced the annual cost of the civil estate, including offices, laboratories and courts, by an estimated £600 million in real terms between April 2004 and March 2010. Since April 2010, the annual cost of running the estate has reduced by a further £212 million. In many cases, departments are nearing the point where they have consolidated their own estates as much as they can individually, and further savings will require them to share space and use it more flexibly.
The Government Property Unit (GPU) now facilitates interdepartmental planning. This sets the basis for improving future property coordination. However, because of the weak commercial property market, departments are finding it difficult to surrender leasehold buildings before their leases expire. If the Government achieves an average space utilisation of 10 m2 per person, it will release about 2.1 million m2 of space, costing £830 million a year to run. However, this will require complex and substantial reconfiguration of the estate and depend on moving out of surplus office space in a difficult market. The NAO estimates around £650 million of this reduction can be achieved by 2020 by not renewing leases.