National Audit Office
Reorganising Central Government Bodies: Cabinet Office
HC 1703, Report by the Comptroller and Auditor General, Session 2010-12
Author:

National Audit Office (NAO)

Publisher:

TSO (The Stationery Office)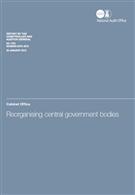 Add to Basket
'Reorganising Central Government Bodies: Cabinet office (HC 1703)' looks at how the Public Bodies Reform Programme, run by the Cabinet Office, is enabling departments to take over the functions of 65 public bodies and transfer those of another three to local government. They are also abolishing more than a half of their advisory bodies to strengthen ministers' ultimate responsibility for policy decisions.
Departments propose to abolish 262 bodies by such means as mergers, transfers out of government and ceasing functions. It is also intended to secure a reduction of £2.6 billion over the spending review period 2011-12 to 2014-15 in ongoing funding for administration in public bodies. A third of this (34% or £0.9 billion) comes from just two changes: the closures of the Regional Development Agencies and British Educational Communications and Technology Agency (Becta).
Annual estimated savings achieved by 2014-15 are likely to continue at between £800 million and £900 million. According to the National Audit Office, however, departments' estimates of £425 million for transition costs will actually be at least £830 million. Departments will therefore need to find gross savings of around £3.5 billion.
There is also concern that there is an insufficient grasp of the ongoing costs of functions transferred to other parts of government. A third of all money spent by bodies in the Programme (£20.6 billion) will be subject to greater accountability to elected politicians, but most (£43.2 billion) will remain at arms-length.
Despite greater accountability being the Programme's primary intended benefit, only one of the six departments examined had proposals for a well-defined, though basic, measure of success for it.