National Audit Office
Show me:
Assurance for Major Projects: HM Treasury and Cabinet Office
HC 1698, Report by the Comptroller and Auditor General, Session 2010-12
Author:

National Audit Office (NAO)

Publisher:

TSO (The Stationery Office)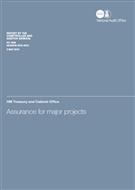 Add to Basket
The National Audit Office discusses the assurance for major government projects, such as the introduction of large IT systems, the construction of ships and helicopters and major changes to how services are delivered in this report, 'Assurance for Major Projects: HM Treasury and Cabinet Office (HC 1698)'.
There are 205 projects in the Government Major Project Portfolio, with a combined whole-life cost of £376 billion, and annual cost of £14.6 billion. Of those projects, 39 have a delivery confidence rating of 'red' or 'amber/red'. The report supports the changes that government has made to the central assurance system for such projects - in particular, the launch of the Major Projects Authority - and finds that they have resulted in some significant impacts. However, the system is not yet 'built to last'. Processes need to be formalised, and the Authority, HM Treasury and departments need to co-operate more if these improvements are to continue. Transparent reporting of project data would also create a more effective and enduring system.
An effective central system that gives assurance over project progress is critical for ensuring successful outcomes.
Capacity constraints have had an impact on the effectiveness of the assurance system. The Authority is reporting on 160 more projects as part of the portfolio and carrying out more in-depth assurance work, but has 40% fewer staff than the body it replaced. As a result, processes for sharing project lessons and for continuously improving the system remain informal, and there is overdependence on key individuals in the system.
Find similar publications here: