National Audit Office
Show me:
Department for International Development: Transferring Cash and Assets to the Poor
HC 1587, Report by the Comptroller and Auditor General, Session 2010-12
Author:

National Audit Office (NAO)

Publisher:

TSO (The Stationery Office)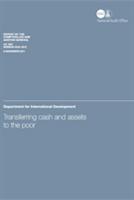 Add to Basket
'Department for International Development: Transferring Cash and Assets to the Poor (HC 1587)' finds that directly providing international aid to the most poor and vulnerable people is showing clear and immediate benefits.
The Department for International Development (DfID) is successfully using such transfers to reach particularly impoverished populations in challenging places. The transfers - usually in the form of cash payments, food transfers or agricultural assets, such as livestock - typically reach their recipients more quickly and transparently than more widely prevalent ways of delivering aid.
These transfer programmes are demonstrating important characteristics of good value for money but the Department remains under-informed on some key elements of cost-effectiveness and so has not fully optimised value for money.
The transfer of aid to poor households has resulted in clear short-term benefits, for example in relation to improved diet or investment.
There is also some evidence for longer-term effects in the form of improved livelihoods, health and education, where measured and where programmes have been running for some time.
The Department does not have sufficient analysis of costs of transfer programmes to know whether what it is spending represents the best possible value for money and is under-informed about efficiency.
Electronic transfers can be a generally more efficient and reliable way of reaching more isolated people. They are not yet widely used by the Department, although there are plans to extend their use. Nor does the Department consistently compare the cost-effectiveness of transfers with that of other design options.
Find similar publications here: