House of Lords Papers
Show me:
EU Action Plan Against Migrant Smuggling
HL 46, 4th Report of Session 2015-16
Author:

House of Lords - European Union Committee

Publisher:

TSO (The Stationery Office)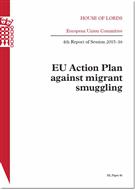 Add to Basket
The current refugee crisis is the greatest humanitarian problem to have faced the European Union since its foundation. In response, the European Commission adopted a wide ranging European Agenda on Migration on 13 May 2015. As part of this Agenda the Commission brought forward an EU Action Plan against Migrant Smuggling. 'EU Action Plan Against Migrant Smuggling (HL 46)' examines this Action Plan.
The Action Plan sets out four priorities:
Enhanced police and judicial response;

Improved gathering and sharing of information; enhanced prevention of smuggling and assistance to vulnerable migrants; and

Stronger cooperation with third countries.
Migrant smuggling is a serious criminal activity, but the Commission has rightly sought to place the Action Plan within the context of a broader approach to migration. The nature of migrant smuggling needs to be properly understood in order to develop an adequate and appropriate response.
Evidence suggests that a majority of those currently entering the EU as irregular migrants are prima facie refugees, as defined by the UN High Commissioner for Refugees. It is, therefore, important that as much focus is placed on the humanitarian aspects of the crisis as on law enforcement.
At the same time, the commission support the high priority that is being given to guarding against migrant smuggling for the purpose of committing terrorist acts. Migrant smuggling is a complex and little understood phenomenon. It can involve organised criminal gangs at one end of the spectrum, and local groups, including groups of migrants themselves, who may have humanitarian motives, at the other.
The Action Plan needs to recognise this complexity.
Find similar publications here: