House of Lords Papers
Show me:
BBC Charter Review: Reith not revolution 1st report of session 2015-16
House of Lords papers 96 2015-16
Corporate Author:

Great Britain Parliament House of Lords Select Committee on Communications

Author:

Lord Best (chairman)

Publisher:

TSO (The Stationery Office)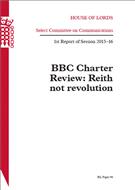 Add to Basket
The BBC has a special status. It is established by Royal Charter, it is independent and its principal source of funding is a universal licence fee. We think that the current review of the BBC's Royal Charter, to which our report contributes, provides an opportunity to ensure that the BBC remains the keystone of British broadcasting, plays a central role in the wider creative industries in the United Kingdom and continues to be respected across the world. The 'Reithian Principles' - to inform, educate and entertain - should be reaffirmed as the mission statement of the BBC and, within the BBC itself, given greater prominence. As the starting point for a new accountability framework, the BBC should adopt Ofcom's four general Public Service Broadcasting purposes - informing our understanding of the world, stimulating knowledge and learning, reflecting UK cultural identity and representing diversity and alternative viewpoints. In recognition of its privileged status, we believe the BBC should set the gold standard amongst the broadcasters in fulfilling the public service broadcasting (PSB) purposes. It should be an exemplar of value-driven broadcasting. We also expect the BBC to make a particular commitment to reflecting the nations, regions and all the diverse communities of the UK. The BBC executive should establish a new set of values in the next Charter period that permeate through the BBC and are apparent in all the content it produces. This new framework should replace the current multiple layers of accountability which have emerged over the last decade. Purpose Remits and Purpose Priorities should be scrapped. Service licences should be retained, simplified, strengthened and leave no room for doubt about the contribution of each service to the BBC's overall mission and values. The service licences must also encourage creativity.
Find similar publications here: