House of Commons Papers
Show me:
Oversight of Special Education for Young People Aged 16-25
HC 1636, Seventieth Report of Session 2010-12 - Report, Together with Formal Minutes, Oral and Written Evidence
Author:

House of Commons - Committee of Public Accounts

Publisher:

TSO (The Stationery Office)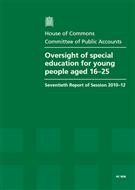 Add to Basket
'Oversight of Special Education for Young People Aged 16-25 (HC 1636)' reports that almost a third of young people with a statement of special educational needs at the age of 16, are not in any form of education, employment or training two years later.
Students with higher-level needs are placed on the basis of statutory assessments of need; however, witnesses identified inconsistencies in the quality of these assessments. The opportunity for reform presented by the Department's recent 'Special Educational Needs Green Paper' (see below) should be used to address these concerns.
The Government spent £640 million on special education for 16 to 25 year olds in 2009-10, yet too many of these young people are falling through the gaps after they leave compulsory education, damaging their life chances and leaving a legacy of costs to the taxpayer.
The Department doesn't know how much money is actually spent on support. The huge variation between local authorities in funding per student suggests that a postcode lottery is being employed.
The system is extremely complex and difficult to navigate, with an array of different providers. Too many parents and young people are not given the information they need to make decisions about what is right for them. But three quarters of local authorities do not give parents any information at all about the respective performance of schools, further education colleges and specialist providers.
It is right for local authorities to decide how to meet the needs of young people in their area, but local people must have access to clear information so that they can hold local authorities to account for how well they deliver.

Related titles:
Find similar publications here:
Legislation - UK, England & Wales

Show all Subjects & Categories