Agency Annual Reports
Show me:
Council Tax Support: Department for Communities and Local Government
HC 882, Report by the Comptroller and Auditor General
Author:

National Audit Office (NAO)

Publisher:

TSO (The Stationery Office)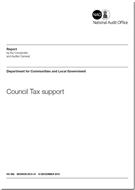 Add to Basket
The report 'Council Tax Support: Department for Communities and Local Government (HC 882)' examines the introduction of Council Tax support by the Department for Communities and Local Government (DCLG) and local authorities.
Local authorities and the DCLG worked together effectively to ensure Council Tax support was introduced on schedule. However, not all local authorities' support schemes will achieve the expected objectives.
Funding for Council Tax support was reduced by 10% by the DCLG, equating to a saving for central government of £414 million in 2013-14. Most local authorities have reduced support for claimants to meet some of their funding reduction.
The DCLG's 'localisation' of Council Tax support required local authorities to design their own local support schemes. All local authorities of a sample of 207 had taken advantage of these additional powers, raising an estimated additional income of £178 million.
71% of local authorities have introduced schemes that require working age claimants to pay at least some Council Tax regardless of income. Most also used new powers to charge more Council Tax on some properties, such as second and short term empty homes, to help offset the funding reduction for Council Tax support.
The task for local authorities to meet these different objectives whilst managing their funding reduction is complex, and may require trade-offs. The DCLG takes the view that scheme designs are local decisions and it does not plan to intervene in local authorities' scheme choices.