Command Papers
Show me:
School Teachers' Review Body
Cm. 8659, Twenty-Second Report - 2013
Author:

School Teachers' Review Body

Publisher:

TSO (The Stationery Office)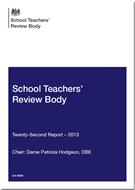 Add to Basket
The report 'School Teachers' Review Body (Cm.8659)', considers how to apply teachers' pay to the Government's average 1 % pay uplift policy, which applies across the public sector.
The remit follows a two year pay freeze, with two further years to come of pay restraint for the public sector as a whole. The Department for Education (DFE) has said there is no additional funding for schools to cover the 2013 pay award.
In light of the School Teachers' Review Body 21st report (see below), DFE published advice to schools on revising their approach to pay (see below). A result of the advice is that September 2013 will be the last time annual pay increments will be awarded to teachers based on length of service. Thereafter, schools will make individual progression decisions based on appraisal, with points retained for reference only on the main pay scale.
There are some emerging areas of concern in the area of recruitment and retention, including competitive pressures, especially in urban areas.
The Review Body urges simplicity, so that schools can concentrate on preparing for implementation of proposals in the last report, and stresses the need to provide some underpinning support for the teacher labour market as a whole.
An increase of 1% from September 2013 is recommended.
Find similar publications here: