Command Papers
Show me:
School Teachers' Review Body
Cm. 8487, Twenty-First Report - 2012
Author:

School Teachers' Review Body

Publisher:

TSO (The Stationery Office)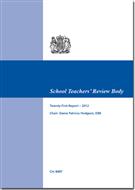 Add to Basket
'School Teachers' Review Body (Cm. 8487)' considers wide ranging changes to the teacher pay framework, focusing on: market-facing pay, ways to link pay progression and performance, and wider reforms to support the recruitment and retention of high quality teachers.
The package of recommendations propose:
(i) a pay framework that seeks to raise the status of the profession, support professional development and reward individuals in line with their contribution to improving pupil outcomes;
(ii) greater autonomy for schools to set teachers pay; and
(iii) recognised career stages for teachers, alongside increased accountability for high professional standards and contribution to pupil progress.
These changes are designed to encourage high calibre graduates and career changers to come into teaching, and to help schools facing the greatest challenges. They are also intended to enable existing teachers to develop and improve their teaching skills.
Among the key recommendations for change are:
replacement of increments based on length of service by differentiated progression through the main scale to reward excellence and performance improvement;

extension to all teachers of pay progression linked to annual appraisal (already established for senior teachers);

abolition of mandatory pay points with the pay scales for classroom teachers, to enable individual pay decisions, but retaining present points of reference in the main scale to guide career expectations for entrants;

retention of a broad national framework;

local flexibility to pay salaries above the upper pay scale; and

more discretion in the use of allowances; a simplified pay and conditions document.
Find similar publications here: