Transport
Show me:
IMDG Code 2016 edition
Author:

International Maritime Organization (IMO)

Publisher:

International Maritime Organization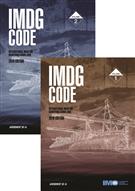 Add to Basket
The International Maritime Dangerous Goods Code is the standard guide to all aspects of handling dangerous goods and marine pollutants in sea transport. The Code lays down basic principles: detailed recommendations for individual substances, materials and articles, and a number of recommendations for good operational practice, including advice on terminology, packing, labelling, stowage, segregation and handling, and emergency response action.
The IMDG Code has undergone many changes over the years, in both format and content, in order to keep up with the rapid expansion of the shipping industry. Amendment 38-16 includes revisions to various sections of the Code and to transport requirements for specific substances. It was adopted by IMO's Maritime Safety Committee (MSC) at its ninety-sixth session in May 2016.
Many maritime countries have taken steps to regulate the carriage of dangerous goods by sea, based on the safety considerations set out by the 1974 SOLAS Convention. More recently, as marine pollution has become a serious concern, countries have taken further steps to regulate the carriage of marine pollutants, as described in Annex III of MARPOL.
Volume 1
Contains parts 1, 2, 4, 5, 6 and 7 of the Code, with sections on:
General provisions, classification, definitions and training

Packing and tank provisions for construction and testing

Consignment procedures

Transport operations
Volume 2
Contains part 3, with sections on:
Dangerous Goods List, special provisions and exceptions)

Appendices A and B (generic and N.O.S. Proper Shipping Names, and glossary of terms) and an index
IMDG 2016 supersedes the 2014 edition, ISBN 9789280115970
Amendment 38-16 of the Code is mandatory as from 1 January 2018 but may be applied by Administrations in whole or in part on a voluntary basis from 1 January 2017.
Find similar publications here: