Transport
Show me:
Recommendations on the Transport of Dangerous Goods - CD-ROM
Model Regulations (14th Revised Edition), Manual of Tests and Criteria (4th Revised Edition), and Amendment 1 to the Manual of Tests and Criteria
Author:

United Nations (UN)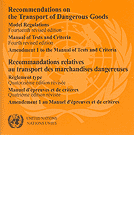 Add to Basket
This CD-ROM publication, in English and French, contains recommendations regarding the safety of people, property and the environment during the transport of dangerous goods.
It seeks to enable the development of a harmonised framework of national and international regulations governing various modes of transport which remain flexible enough to meet any special requirements.
It does not apply to the bulk transport of dangerous goods in sea-going or inland navigation bulk carriers or tank-vessels, which are subject to special regulations.
Find similar publications here: