Human Rights
Show me:
Monitoring the Convention of the Rights of Persons with Disabilities
Professional training series 17
Corporate Author:

United Nations Office of the United Nations High Commissioner for Human Rights

Publisher:

UN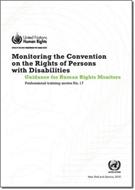 Add to Basket
Human rights work requires preparation, technical skills and substantive knowledge in order to be effectively conducted. This publication aims to assist United Nations human rights officers and other human rights monitors—including from Governments, national human rights institutions and non-governmental organizations—to engage in monitoring the rights of persons with disabilities, in line with the Convention. It provides an explanation of the paradigm shift that the Convention enshrines and of the scope, standards and principles recognized by it. Furthermore, it proposes a methodology for monitoring the rights of persons with disabilities, and provides useful advice on issues to consider when working with persons with disabilities.