Human Rights
Show me:
Public diplomacy: what it is and how to do it
Corporate Author:

United Nations Institute for Training and Research

Author:

Alan Hunt

Publisher:

UN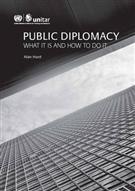 Add to Basket
Efforts by governments to influence the public in other countries have existed for some time. Though the concept of public diplomacy emerged in the 1960s, the advent of ICT has given powerful impetus to this particular way of conducting international relations. Increasingly, governments lost their quasi monopoly on the control of information to the benefit of public opinion and non-state actors. Who, then, does public diplomacy belong to? How is the task divided? What are the responsibilities of government officials? What is the role of non-state actors? How can one measure the power of the media? This publication is designed for diplomats but is also a must-have for anyone keen to explore this area in depth.