Environment
Show me:
Every drop counts: environmentally sound technologies for urban and
Corporate Author:

United Nations Environment Programme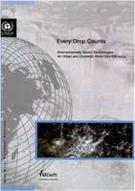 Add to Basket
UN publication sales no. E.08.III.D.18. The CD-ROM contains "Wisewater", a tool developed by Microsoft Excel and consists of a spreadsheet which considers 4 types of environmentally sound technologies to reduce water leakages, water use at source, allow recycling and the reuse of used water, and complement or augment water resources at a property level. It also includes training slides. A publication produced by United Nations Environment Programme, with TuDelft (Delft University of Technology and in collaboration with the Environmental Management Centre, India.
Find similar publications here: