Economics
Show me:
Economic and social survey of Asia and the Pacific 2018: mobilizing finance for sustained, inclusive and sustainable economic growth
Corporate Author:

United Nations Economic and Social Commission for Asia and the Pacific

Publisher:

UN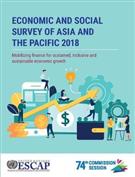 Add to Basket
Sustainable Development Goal 8 calls for promoting sustained, inclusive and sustainable economic growth. These three aspects of economic growth correspond to the three pillars of sustainable development: economic resilience, social inclusiveness and environmental sustainability. The region has made tremendous progress on the economic front. However, economic inequality within and among the region's economies has increased, and rapid expansion of economic output has contributed to untenable levels of environmental degradation. The Survey shows that this is an opportune time for governments to initiate policies that can make economies resilient, inclusive and sustainable. It contains analyses of such issues and explores policy options.